La minute de la texturgie n° 26 - avril 2019
(créer de nouvelles matières sensibles en combinant textures textiles et hautes technologies)
The gossip of "texturgie": creating new sensitive matters by combining textile textures and high technology
Digital interlooping: 3D printing with SLS to create knitted structures
Mark Beecroft, a senior lecturer at the Manchester Metropolitan University School of Art, is exploring the use of 3D printing in industrial knitting in a process he calls 'digital interlooping'. Selective laser sintering (SLS) can create tubular knit-based structures using nylon (PA12) powder.
Previous 3D printed knitted structure research involved non-continuous printing methods and linked geometries. Beecroft's work addresses this 'gap' in the literature. He believes his approach offers the opportunity for a new method of textile production.

'Digital interlooping', 3D printing in industrial knitting; © Mark Beecroft
Origami and high-performance textiles for smart human habitats
MoonMars project—architecture plans for smart human habitats and research stations on other planets. They are experimenting with origami and high-performance textiles to create habitats that are compact enough to transport and easy to deploy in extraterrestrial environments.
The MoonMars prototype entrance tunnel was deployed and tested to extreme conditions during the EuroMoonMars 2018 simulation at ESA–ESTEC. The origami structure was designed as a gateway and sub-system between the exo-habitat, airlock system and exo-laboratory.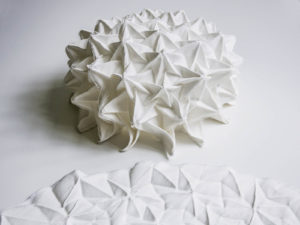 The origami structure was designed as a gateway; photo © Samira Boon
A new digital thread dyeing system to dye exactly the amount you need
Twine's system digitally dyes white thread from different manufacturers that can be used for a range of applications, such as apparel, activewear, shoes, accessories, home decor, vehicle upholstery and more. The SnapMatch application captures an image of a sample using a mobile device and Twine's proprietary algorithms analyze the colour immediately. The user then sends the captured colour to the TS-1800 system for immediate thread dyeing in the desired colour.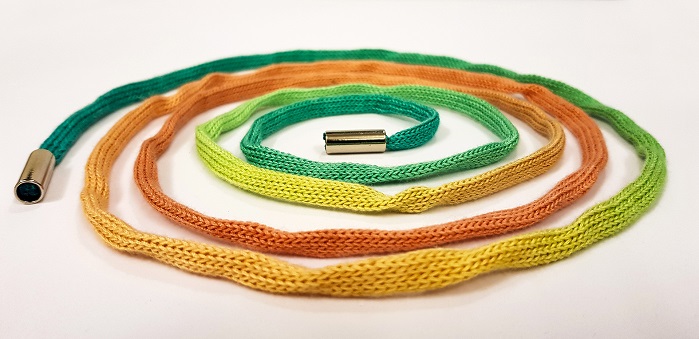 Knitted lace gradient. © Twine Solutions
La minute de la texturgie n° 25 - mars 2019
Raised consciousness of consumers gives scope for yarn companies to develop their plans
Raised consciousness of consumers worldwide is feeding into priorities already established on sustainability and ultimate disposal of fashion garments, giving scope for yarn companies to develop their plans and spread the word. Pitti Immagine Filati continues to develop and encourage research into yarns and knitwear. Digital sampling is finally coming into its own, seen in action at Tollegno 1900 working with Shima Seiki machinery, Virtual Yarn Project, is ready as a regular tool with verisimilitude of printed fabrics giving the illusion of texture and 3D looks, enabling bespoke designs without vast expenditure. This is seen as a green measure, saving wasted fabric, dye and ultimately time and money.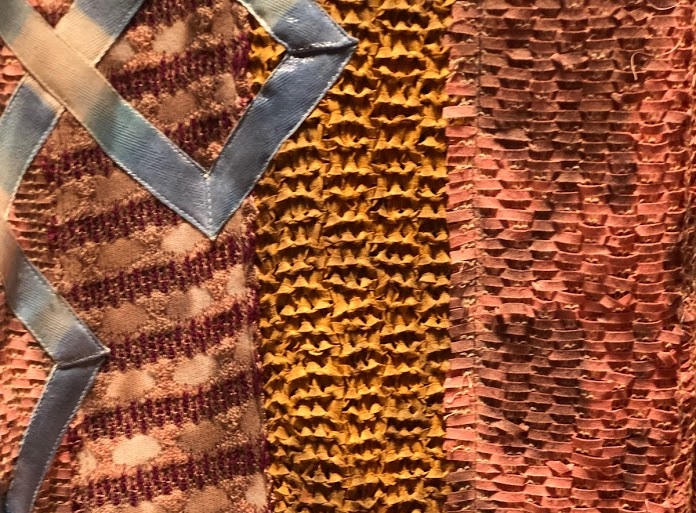 Designers used mixed structures and tactile effects; photo © Janet Prescott
A unique new silhouette for Museum of the Future in Dubai
In a region that is renowned for pushing the limits in architectural designs, The Museum of the Future in Dubai is one of the most complex composite projects to date, adding a unique new silhouette to the Dubai Downtown skyline. The project combines lightweight carbon and glass fibre prepregs, whose fire performance has been approved by the Dubai Civil Defence (DCD), with a stainless-steel outer cladding to produce the stunning outer skin of the torus shaped building.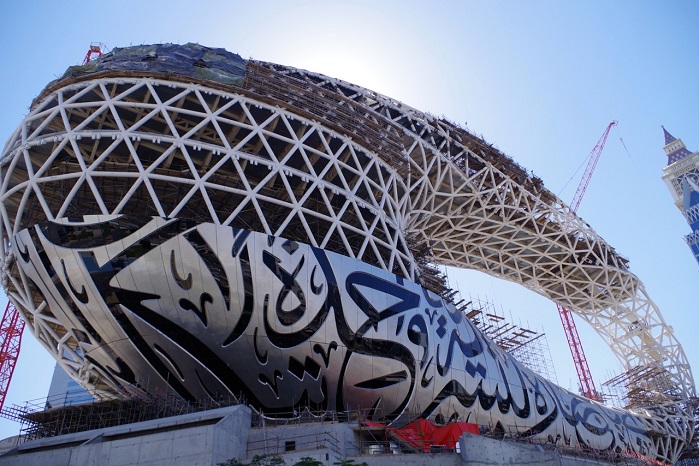 Arabic calligraphy covering the facade, © Notus Composites
Extreme sports require tough textiles
Today's sport jumpers increasingly want parachutes that allow them to descend at a greater speed but still land where they're supposed to. That's accomplished by using smaller canopies as well as fabric that meets appropriate porosity expectations. Nylon may be the established standard for parachute fabric, but how that nylon is produced does change, for reasons of performance as well as aesthetics.
Ropes are certified and verified by third parties, with specific certification depending on the end use of the product. Climbing ropes are conformed to UIAA 101, the standard of the International Climbing and Mountaineering Federation, which specifies minimum performance properties.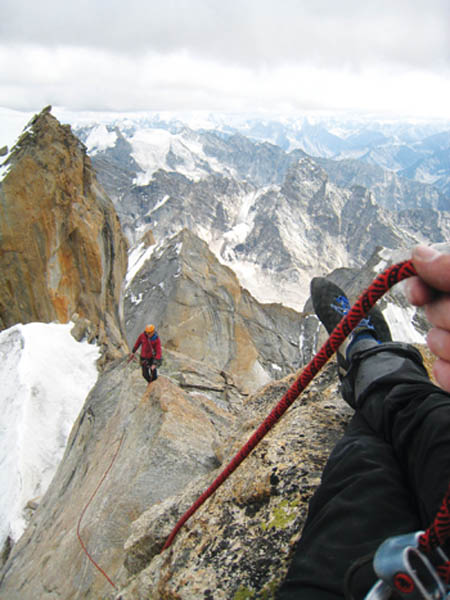 Sterling Rope's Helix DryXP rope for alpine climbing. Photos: Sterling Rope Co. Inc.
La minute de la texturgie n° 24 - février 2019
Sensing molecular logic: first example of a molecular memory device
By shaking down electronics to the molecular level we would overcome the limitations of microlithography and other techniques and so extend Moore's Law well into the future. Moreover, molecular logic devices might open up new applications and new thinking in terms of what we might do with computation.
UK researchers have demonstrated the first example of a molecular memory device that follows-up storage with logic processing.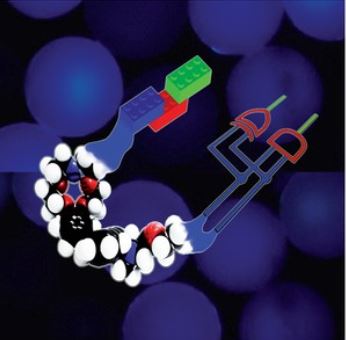 Molecular logic-based computation; © Prasanna de Silva
Researchers create carbon fibres with uniform porous structure
Liu is an assistant professor in the Department of Chemistry, in Virginia Tech's College of Science. After tweaking a conventional method of chemically producing carbon fibres, now he has developed a process to synthesize porous carbon fibres with uniform size and spacing. He details this work in a recently published article in Science Advances.
It opens the way about designing materials for energy storage. Now one can also start to think about functionality: we not only use (carbon fibres) as a structural material but also a functional material.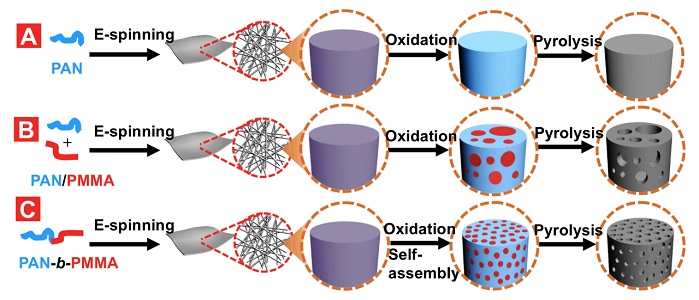 Conventional (A, B) and new (C) methods for synthesizing carbon fibres © Virginia Polytechnic Institute and State University
Apple Wins Patent for Advanced Weaving Equipment
Apple was granted a "design patent" for Fabric. The U.S. Patent and Trademark Office officially granted Apple a patent for the specialized equipment that will make both regular and smart fabrics that Apple has other patent filings on. Apple envisions standard and smart fabrics will be incorporated into future products from Apple Watch bands to MacBooks, clothing, smartglasses and beyond.
Strand rotating equipment, strand woven with other strands; Patently Apple
La minute de la texturgie n° 23 - janvier 2019
The features of small-scale digital printing applied to the traditional dyeing process
Twine Solutions has created the world's first standalone digital thread dyeing system which applies the features of small-scale digital printing to the traditional dyeing process. The plug and play machine dyes thread using digital printing technology and can produce any length and colour, whenever or wherever they are needed. The technology is based on waterless dyeing and will feature inbuilt colour software integrated with Coats ColourStitch.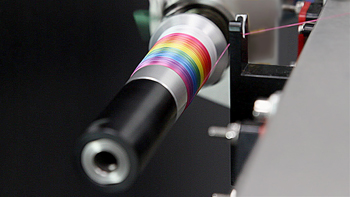 Gradient thread dyeing © Twine_Solutions
A digitally knitted tapestry with technical functionality at Guggenheim Bilbao
Leading flat knitting machine manufacturer Stoll has helped create and manufacture the textile element of A Tent Without A Signal, a digitally knitted tapestry with technical functionality. Braided with metallic fibres, MOS's tent doubles as so called a Faraday cage for the future, scrambling forthcoming 5G mobile signals. "It embodies a nomadic typology but denies its traditional formless slack in favor of a taught lofting between two archetypal symbols in plan — the cross and the circle — by means of a digitally flat-bed knitted futuristically fluorescent tapestry, completed in collaboration with ground-breaking textile technology maker, Stoll."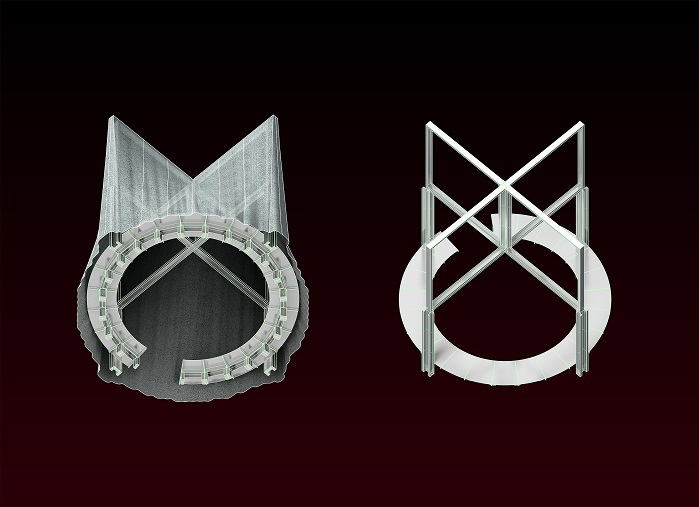 A tent without a signal; courtesy MOS Architects, New York, with the technological collaboration of Stoll © Guggenheim Museum Bilbao
Double-curved textile reinforced concrete elements
The CurveTex project objectives were the development of a drapable textile reinforcement for a concrete matrix and the production process (con-crete casting process) for double-curved textile reinforced concrete (TRC) elements with continuous fibre reinforcement.
The relevance of this research topic is not only limited to the construction sector, but also affects several textile-based sectors, such as the automotive industry, since the draping of conventional, two dimensional, textile semi-finished products in three-dimensional, near-net-shape preforms often leads to creases or draping errors.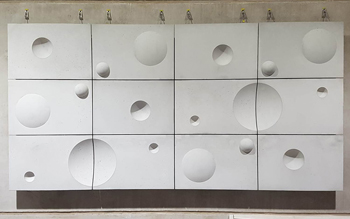 CurveTex facade with drapable, elastically adapted reinforcement textiles; source: Stanecker Betonfertigteilwerk GmbH